Product Summary
The MAX508AEWP is a complete 12-bit, voltage-output digital-to-analog converter. The DAC output voltage and the reference have the same polarity, allowing single-supply operation.

Parametrics
Absolute maximum ratings: (1)VDD to AGND: -0.3v, + 17v; (2)VDD to DGND: -0.3v, +17v; (3)VDD to VSS: -0.3v, +34v; (4)AGND to DGND: -0.3V, VDD; (5)digital input voltage to GND: -0.3v, VDD+0.3v; (6)VOUT to AGND: VSS, VDD; (7)VOUT to VSS: 0v, +34v; (8)VOUT to VDD: -34V, 0V; (9)REFOUT to AGND: -0.3V, VDD+0.3v; (10)continuous power dissipation(any package) to +75℃: 450mW; derate above +75℃: 6mW/℃; (11)operating temperature range: -40℃ to +85 ℃; (12)storage temperature range: -65℃ to +150℃; (13)lead temperature: +300℃.
Features
Features: (1)12-bit voltage output; (2)Internal voltage reference; (3)faast μp interface; (4)8+4 data-bus widths; (5)single+12v to dual ±15v supply operation; (6)20- and 24-pin DIP and wide SO package.

Diagrams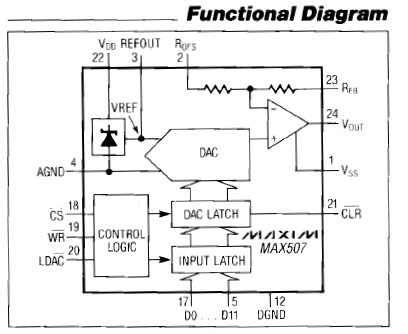 Image
Part No
Mfg
Description
Pricing
(USD)
Quantity

MAX508AEWP

Maxim Integrated Products

DAC (D/A Converters)

Data Sheet

Negotiable

MAX508AEWP+

Maxim Integrated Products

DAC (D/A Converters) 12-Bit Precision DAC

Data Sheet



| | |
| --- | --- |
| 0-1: | $25.24 |
| 1-25: | $16.66 |
| 25-50: | $12.31 |
| 50-100: | $10.72 |


MAX508AEWP+T

Maxim Integrated Products

DAC (D/A Converters) 12-Bit Precision DAC

Data Sheet



| | |
| --- | --- |
| 0-778: | $10.76 |
| 778-1000: | $10.05 |


MAX508AEWP-T

Maxim Integrated Products

DAC (D/A Converters)

Data Sheet

Negotiable