Product Summary
The NC7WZ32K8X is a dual 2-Input OR Gate from Fairchild's Ultra High Speed Series of Tiny Logic. The NC7WZ32K8X is fabricated with advanced CMOS technology to achieve ultra high speed with high output drive while maintaining low static power dissipation over a very broad VCC operating range. The device is specified to operate over the 1.65V to 5.5V VCC range. The inputs and output are high impedance when VCC is 0V. Inputs tolerate voltages up to 7V independent of VCC operating voltage.
Parametrics
NC7WZ32K8X absolute maximum ratings: (1)Supply Voltage (VCC): -0.5Vto +7V; (2)DC Input Voltage (VIN): -0.5V to +7V; (3)DC Output Voltage (VOUT: -0.5V to +7V; (4)DC Input Diode Current (IIK) @VIN<-0.5V: -50mA; (5)DC Output Diode Current (IOK) @VOUT<-0.5V: -50mA; (6)DC Output Current (IOUT): ±50mA; (7)DC VCC/GND Current (ICC/IGND): ±100mA; (8)Storage Temperature (TSTG): -65℃ to +150℃; (9)Junction Temperature under Bias (TJ): 150℃; (10)Junction Lead Temperature (TL);Soldering, 10 seconds: 260℃; (11)Power Dissipation (PD) @ +85℃: 250mW.
Features
NC7WZ32K8X features: (1) Space saving US8 surface mount package; (2) MicroPak. leadless package; (3) Ultra high speed tPD 2.4 ns Typ into 50pF at 5V VCC; (4) High output drive ±24mA at 3V VCC; (5) Broad VCC operating range 1.65V to 5.5V; (6) Matches the performance of LCX when operated at 3.3V VCC; (7) Power down high impedance inputs/output; (8) Overvoltage tolerant inputs facilitate 5V to 3V translation; (9) Patented noise/EMI reduction circuitry implemented.
Diagrams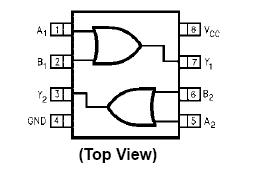 Image
Part No
Mfg
Description
Pricing
(USD)
Quantity

NC7WZ32K8X

Fairchild Semiconductor

Gates (AND / NAND / OR / NOR) UHS Dl 2-Inp OR Gate

Data Sheet



| | |
| --- | --- |
| 0-1: | $0.30 |
| 1-25: | $0.23 |
| 25-100: | $0.16 |
| 100-250: | $0.13 |


NC7WZ32K8X_Q

Fairchild Semiconductor

Gates (AND / NAND / OR / NOR) UHS Dl 2-Inp OR Gate

Data Sheet



| | |
| --- | --- |
| 0-1: | $0.08 |
| 1-25: | $0.08 |
| 25-100: | $0.07 |
| 100-250: | $0.07 |